About  Elizabeth
Does the world seem to be crashing down around you?
My world started crashing down around me in October 2008, and six months later I had one of those lightning-bolt experiences with a vision that showed me that my next level calling and purpose was about creating  A NEW MODEL for Educating and Raising Children & Families.
One of my deepest joys comes from helping parents have deep, meaningful relationships with their loved ones,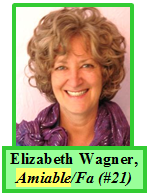 and helping them have greater confidence in themselves as well as greater confidence in the choices they make while being of service to their family, extended family, community family and global family.
My vision was about mothers and all the new babies being born. It involved creating a FUN way for mothers to know their own type, and the type of all their children and family members, and then with chart in hand – the programs provide simple, easy, handy references to what they could do for their families.
In 1980, I had started studying and then teaching a number of classical medicines. One of these was Ayurvedic Medicine, which has been called "The Mother of all Medicines and the Medicine of Mothers" – but it tends to be a bit complicated (even for me), and only pertains to the third layer of your Sacred Typology. To make things easier to use and incorporate into your daily lifestyle, I integrated all seven layers and simplified their expression.
Then I received another vision about sharing my own horror story with others. Why? I was told that those who were experiencing their own horror stories would need the whole laundry list so they would believe me when I shared ways to create a new reality and feel like you're living in Heaven while you're still right here on this Earth. That's why the first section of Conscious Entertainment is called Living a Fairy Tale v. a Horror Story and is where I share how to turn the energy to shift a personal horror story into a fairy tale.
My  Own  Life's  Journey

As a soul, we are love. From the soul perspective, many of us intentionally chose to place ourselves, at some point in our life, in the midst of situations where there was no external love. Why? Because many times the process of emotional healing is what brings about spiritual growth and facilitates our own journey inward to deeper self-discovery.
That pretty much sums up the ever-evolving journey of my own life. From a very young age I longed to know "what is love? where is the love? and how can I experience it more often?" This quest guided me along a spiritual journey that led me to study and practice the common principles and truths shared by all of the ancient spiritual traditions and Classical Traditional Medicines. I started as a student and then became a self-development counselor. Along the way I learned many tools, techniques, and things about my Self that have ultimately been very empowering.
Background

My training was primarily in the area of Classical Traditional Medicines as a hakim (medicines to rebalance body-heart-mind-spirit), where I received certificates from C. Robert Hess as a hakim, traditional practitioner, iridologist and mind/bodyworker. I have also received certifications from Dr. Bernard Jenson (natural health and iridology), John Heinemann (herbology, natural healing therapies, and circulation therapies), Karen Wentworth (Alexander Technique), Diane Stein (reiki), and Lynn McGonagill (energetic healing).
Eventually, I became the director of the Institute for Dynamic Psychophysical Balancing running classes, workshops and seminars. I taught the principles of natural health, rest and relaxation, stress reduction, meditation, diet and nutrition, natural and typological cooking, herbology, aromatherapy, gem therapy, yoga, mind/bodyworks, reflexology, massage, Alexander Technique, life effective attitudes, right relationships, setting positive goals, iridology, sclerology, psychosynthesis, typology, sacred laws, psychophysical and psychospiritual connections and rebalancing. During my years as a yoga teacher, I synthesized the knowledge of typology with yoga to create personalized yoga dances combining typological music with specific typological asanas (postures) to rebalance specific conditions.
Over time, I became the chancellor in charge of studies and services of all the schools, which included natural health, soft and gentle martial arts, the expressive arts and being, and advanced spiritual studies. During that time I was also editor and assistant producer of hundreds of articles, books, study courses, audio and videotapes.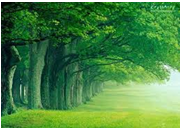 Along the way, my life also brought experiences in the life-development areas of setting up and running businesses, sales, marketing, production, and developing efficiency systems. I was also a legal secretary twice in my life, and partnered in creating and running a green cleaning and product company.
Creating  Sacred  Typology  Charts  &  Programs
However, the years of learning the sacred laws and my own personal Typology were the most deeply profound and liberating experiences for me. Each time I learned another form of Typology, from another tradition or sacred law, this revealed another layer or aspect of my Self. Each experience felt like another awakening to deeper levels of understanding and added another puzzle piece to the larger picture of who I really am. Having that foundation helped me understand the deeper meaning and purpose of my experiences as life unfolded.
In 2002, I founded DestinyWorks™ and created Sacred Typology to share with others what had provided such deep value and impact in my own life. This required synthesizing a huge body of knowledge to explain what Sacred Typology is and how to make use of it. In 2011, Jump In Time™ was founded to distribute this knowledge.
Sacred Typology synthesizes principles of evolutionary consciousness with roots from the ancient wisdom traditions and medicines of: Proto-Western (Tantra & Ayurvedic) Medicine, Traditional Eastern (Taoism & Chinese Five-Element) Medicine, Traditional Western Medicine (Sufism, Unani, Judeo-Christianity), Buddhism, Hinduism, Tibetan Lamaism, and The Fourth Way Work.
This process also involved creating the image I had been seeing in my mind's eye that would preserve and synthesize all this knowledge. Manifesting this graphic image into tangible form felt like my heart's deepest desire, purpose, aim, direction, role, mission, creation and my own unique contribution to this body of wisdom knowledge – as well as the next step of uncovering my own destiny.
This graphic image represents the unification of all the great traditions, sacred laws and forms of Typology back into one unified perspective. It also represents our own personal journey of reconnecting all aspects of our Self – body, heart, mind and spirit (along with all of our energy centers) – to become one whole interconnected, interrelated and integrated human Being.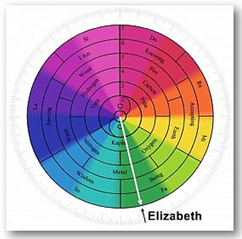 The seventh layer of my own chart shows that I'm a Fa Note, near the Fa-So cusp.
One way that type of energy manifests through me is by specializing in expressing the heart (Fa energy) through the written word (So energy).
The fifth layer of my chart shows that I have a Metal type of Being, which can sometimes be sharp. I seemed to have sharpened that element in the area of making connections. Some people have called me The Connection Queen.
In fact, many years ago a dear friend described how this quality of Metal Being expresses itself in this poem she created for my birthday…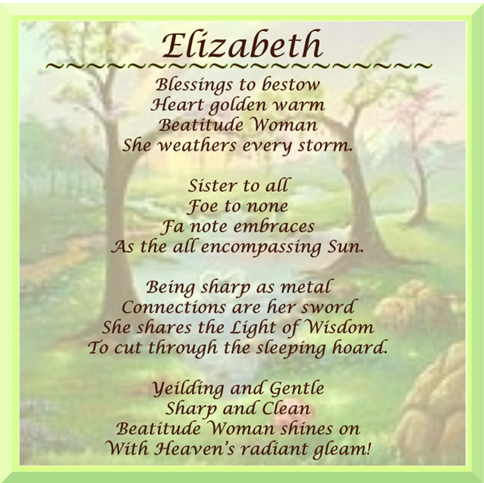 The knowledge that Sacred Typology shares is our birthright, and I discovered during the unfolding journey of my own life (and creating the Sacred Typology programs) – that my own deepest heart's desire and purpose relates to sharing and empowering others with the understanding of how to nurture Your True nature and be who you really are.

Blessings,  Love  and  Light,                                                                                                                                                                                                                                                 Elizabeth
Want to know even more about me?
Family Relationships Chart: this is an in-depth, intimate story of the last four days of my mother's life, and how "The Family Relationships Chart provided A Peace that Surpasses All Understanding". It's an exploration into my own Family Relationships Chart, generational patterns and the Baby Essence Gifts that children bring into the relationship of the parents. It shares my own family relationship dynamics.
Multi-Dimensional Journey: this is a story of my own journey of creating the Sacred Typology programs, which was "A Multi-Dimensional Journey – Uncovering the Deeper Meaning of Everyday Experiences". It includes snippets as examples of the process of uncovering the deeper meaning of my experiences as I was seeking a deeper understanding of my life or soul purpose. The preconceived idea that my mind had initially thought was only one program, morphed into two…three…four…then five. Many artists and co-creators experience a merging with their creations as a result of being the vessel that gives birth and breathes life into their creations – which gives their creations a level of consciousness of their own. When we develop the skill of listening, the creation starts communicating with us how it wants to develop.