Private  Sessions  with  Elizabeth
 I  am  honored  if  you  feel  what  I  have  to  share  with  you  can  be  of  service  to  you  along  your  own  journey
Private Sessions can cover a range of areas. I specialize in sacred typology, food as medicine, reversing disease, integrated yoga, mind/bodyworks, relationships, energetic healing, conscious entertainment, and the Ray as an ascension tool.
I love connecting, relating and "dancing" with people one-on-one – but I can only do that with a limited number of people – and that's why I created the programs.
Once I create your Charts, all the connections start falling into place.
When I connect with you, I am fully present with my heart and soul, and sessions are intimate and heartfelt. As an intuitive, I connect with you and your Essence energy. The connections I share with you serve to nurture and support your Essence, while also help to release what no longer serves you.
I may receive messages of insight into your past, present or future. I often hear things, feel things or see things, which I then share with you. This process supports you in connecting more with your own Essence, higher self, soul and source energy, and assists you in opening, aligning, balancing and integrating body-heart-mind-spirit. It increases your self-awareness, which helps you transform states of being, emotions or issues that challenge your peace and wellbeing, and allows you to make life changes that further you along your journey.
Some experience emotional release, tears, laughter, calm and/or energy pulsations during these sessions. Although each session is a simple, gentle conversation, by telephone, each session is unique…no two sessions are alike.
My personal aim with each session is to share energy, knowledge, guidance and direction that gives you balance and clarity in the now and allows you to have clearer understanding, confidence, trust and vision as you move forward.
I don't have an agenda, so I'm not into trying to teach or tell you what to do. I'm into following – and I follow YOU. I can share connections, guidelines, principles and languages, but really – all the answers you need are within you. Sometimes I ask you Questions to help draw these answers out of you.
My gift is energy readings that assist in helping you align your energy to connect with your own Essence and inner wisdom. Each person is unique and growing and evolving at their own pace – so each session is unique, and I follow your pace.
You can also ask Questions. Each person has their own unique Questions, depending upon where they are along their own personal journey. There is no such thing as a stupid Question. All Questions are just a request for more information.
Sometimes a session is just a conversation, sometimes it's about releasing blocks, while other times I am guided to share tools or techniques that empower you to make your own connections to understand the deeper meaning of your everyday experiences.
The heart of connections and correspondences are in the programs. Those who have the greatest movement and serendipity in their Life and Self are those who clearly see where they are right now, as well as where they are headed and ideally want to be. My gift is helping you get further faster along that journey.
I look forward to sharing that journey with you, and nurturing your true nature.
What  People  Are  Saying…
"I just wanted to say thank you again for your time, your knowledge, and this journey with us. You have opened us up with this sacred typology even further than we could on our own. The information you have given me is truly wonderful, and already helping us understand so much. I really appreciate you being open to us so we can ask you things. Your insights have helped me see the light clearly. You are truly a blessing."       ~Jane M.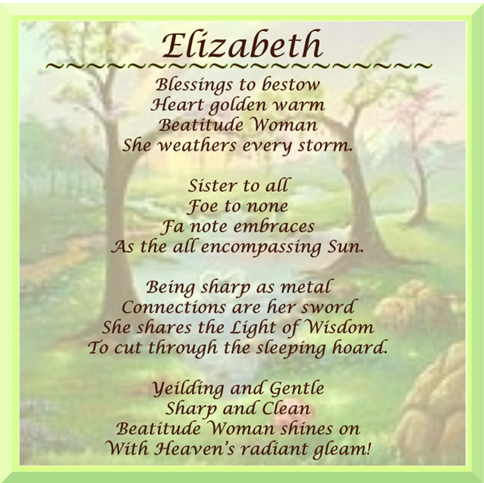 "I want to thank you for trusting me with this personal piece of writing (The Family Relationship Chart). I am honored and humbled. While reading it I felt you, heard you and was able to see how knowing what you know enables you to process things so they are propelling you forward rather than treading emotional water such as fear, guilt, anger, or whatever else.  I loved how you stated your mom's mental condition, with no judgment. So I thank you for letting me in to your inner space.
My daughter was about a year old when you did her typology 23 years ago. The few things I remembered guided me all along – Pitta, Re, in touch, has to touch, child-like, playful. It helped me raise her to be who she really is, with no expectations for her to be like me. Now we have deep love and connections despite all the major differences. I learn from her, not just her from me. It's a great combination. Thanks for that….It's huge." ~Noa S.
---
 "I thank you from the bottom of my heart for all the attention that you have given us since beginning this journey together. The time we spent together was cherished and went beyond all expectation. I learned so much and I look forward to learning much more. The emails that you have written to me have provided so much wisdom and guidance. The insight that you give me is priceless. You are able to communicate so effectively and straight to my heart and soul. You are the most gracious person I know. You are a role model for me in this way. I love and respect you. Thank you Elizabeth!" ~Danielle N.
---
"This is all so amazing. There is so much info on this – it is so exciting to put it all together. Thank you so very much – our family is benefiting so much from your knowledge and experiences. I find myself waking up in the mornings with a new found excitement that I will love with a pure love today. It is so wonderful!
Several times a day my daughter-in-law says, 'Did you see Jr. do that? That is so true to who he is'. Or 'It was so fun taking time outside with Trinity today. Now I can see why she loves the earth so much. She is being true to herself'. She is seeing her kids in a different light and is loving every minute of it.
My son and his wife have even gotten time to talk and evaluate their relationship. It's like a huge light bulb has turned on and their communication has been great.
I also had an amazing experience with my youngest daughter. I was able to set guidelines for her and she is responding beautifully. I also asked my daughter-in-law to be a sort of mentor to her since they are the same type and speak the same language. She loved that idea and said it will make her a better sister, and their relationship is much brighter now.
It is amazing that so much is happening so quick and seems so natural. Thank you so very much for shining your light on us and for introducing me to this new life. I am so excited to share this with others and I know it WILL CHANGE LIVES!!! My family is living proof that this has been divinely orchestrated. I am truly looking forward to what the future has in store for us." ~Cissy M.
---
"Thank you Elizabeth for your recommendations the other day…it was exactly what I needed (as usual:)  Talking with you is fantastic and always groundbreaking, enriching, and divinely inspired. Thank you thank you thank you." ~Steve R.
---
If you have questions or need assistance deciding which kind of Private Session would best serve your needs, please email:   support@jumpintime.org
Requirements  for  Private  Sessions
What I Need From You

You need to already have your Personality Chart, your Relationships Chart, and at least one of the Programs.

You need to communicate what you want to know, be or do, and your Questions. (send your questions to: support@jumpintime.org )
What You Get From Me
All sessions may run a little longer, or a little shorter than the designated time, but what you'll get from me is:

My full presence with complete, undivided attention

An MP3 that I record (if the session is by phone) which enables you to preserve and listen to the energy connections whenever you wish.

A follow-up from me a few days after the session (via email). This allows you to share whatever connections, insights and/or shifts you have noticed and ask any questions that may have arisen since the session.
Personalized  Interpretation  of  Your  Charts
The value of a Personalized Interpretation of your Charts is that it gives you a Jump in Time by having a deeper understanding of yourself and your relationship dynamics right now, instead of waiting until you have read all the programs and can make all the connections for yourself. In other words, it gets you further faster.
This is very useful if you are experiencing energy misalignments; or if you want to understand specific relationship dynamics, generational patterns of energy that would benefit you to release, want to know the baby essence gifts that children brought into a relationship, or want to understand the Essence of your family tree.
The more information or stories I have about specific relationships on your Chart, the more soul connections I can share back with you. This requires us having a conversation, and you sharing your questions and some stories with me.
I can either give you a Spontaneous Interpretation of Your Charts for $125. The spontaneous energy reading can last up to 1-hour and allows you to ask more questions about any particular relationship dynamics you want to explore and know more about.
Or, I can answer your questions by creating a written report of the Written Interpretation of Your Charts for $175. The benefit of the written report is that it preserves the information in written word with diagrams, sometimes brings further connections that arise as I'm putting this together, and is something that you can share with others.
Individual  Sessions
The intention of Individual Sessions is to empower and assist you on your chosen journey of self-discovery. You choose what area of your Life or Self you want to focus on – where new insight and clarity is desired. All areas are connected and affect the other areas…so nothing is off-limits, all questions are important, and any and all aspects of your Life or Self that you want to explore are open for discussion. Price for an Individual Session (up to 2-hours) is $200. (Price for package of 3-sessions, two-weeks apart, $450)
Couples  Sessions
Some have called me "The Ultimate Relationships Counselor." I have run one-shot Couples Sessions as well as 5-day intensive workshops with couples. The dynamics of a Relationship always become clearer when both individuals are present in the conversation together with me. Each side has their own story and their own feelings – and that's the personal work that each person in a Relationship is responsible for. But a Relationship takes two-to-tango, it's a third real thing that both individuals are creating together. Thus, the Relationship dynamics get further faster when both parties are bringing 100% of themselves to the Relationship. That means instead of 50-50, it's 100-100.
Every Relationship is unique, and has its own kind of dynamics. As souls, you have been together before – and you picked up in this lifetime wherever you left off in the past lifetime. It really doesn't matter what that past lifetime was about. What matters is that you both are willing to work on your Relationship together in THIS LIFETIME, right now, to help support each other in the process of growing and evolving. If you have a family, this includes creating a family and a life together that feels like you're living in Heaven while you're right here on Earth. These sessions involve the 3 of us being together on the phone. Price for a Couple's Session (up to 2-hours) is $300.
Family  Sessions
I have also worked with families, when everyone knows their typology. There are multi-dynamics within families, especially when there are many different types within the family. Family Sessions give everyone a chance to share their questions about relating with other family members, with all family members participating in the interaction and hearing the feedback and recommendations at the same time. This gets the whole family further faster. These sessions involve all of us being on the phone together. Price for a Family Session (up to 2-hours) is $400.
Soul  Sessions
Soul Sessions work with energetic healing. When conducted in person, they often include some initial mind/bodyworks to release psycho-physical (mind/body) tension, congestion and blockages in the physical body, and then working with release techniques and posture alignment to develop psycho-physical awareness of subtle senses and energies for physical, emotional, and mental release and rebalancing, which opens up the flow of energy in all three stories.
Then the guides, angels and healing lightbeings are invited to join us for guidance, support and protection as we work with releasing old outdated programming, aligning your energy bodies and activating your energy centers. Each session is unique. Many people experience physical sensations or see visual images. Sometimes the process includes removing past-life trauma or soul retrieval; tapping into parallel dimensions or future lives to integrate the full-spectrum of soul gifts into the present lifetime. Once again, this is about following instead of leading. We ask and follow higher guidance as to what work to do. These sessions can also be conducted long distance, by phone (without the bodyworks or physical alignment). Price for a Soul Session: up to 1-hour without preliminary mind/bodyworks is $125; up to 2-hours with preliminary mind/bodyworks is $225.
To Schedule Private Sessions please email:   support@jumpintime.org
If you have questions about the Requirements for a Private Session or need assistance deciding which kind of Private Session would best serve your needs, please email:   support@jumpintime.org
Mentoring  Sessions  with  the  Ray  as  an  Ascension  Tool
I have over 27 years of working with the transcendental Ray as an ascension tool. I have run people through physical Rays, psychological Rays, spiritual Rays and business Rays. This is a powerful tool – but you only get out of something what you put into it. Because this is the deepest and most profound level of work, it requires a deep and profound level of commitment from you.
Mentoring work with me gives you a thorough and ongoing connection and support on an area or areas of your choice, over a 7-week period. You may choose the theme of this Ray and whatever goals or desires you wish to focus on.
Requirements: Both Charts and all four Programs: the Personality program and, the Conscious Entertainment program, the Natural Health program, and then the Essence, Being & Personality program. Working with the Ray is about raising your Level of Being and consciousness. All programs were written by the Ray and have various levels of information about the Ray and raising your Level of Being within them. The Essence, Being & Personality program has two sections on the Ray. Both sections are required reading before starting Mentoring Sessions with the Ray. Working with the Ray also requires daily journaling, recording your own personal insights and connections.
Each of your 7 sessions takes place via telephone and is an hour long. These are staged sessions that focus on one note of the Ray per week. The session is packed with information and energy connections, my intuitions, as well as practical guidance for you to apply between sessions.
Each week of the Ray has its own sub-theme with its own kind of actions to take. It's the ultimate tool to learn how to turn unconscious reactions into conscious choices and actions. At the end of each week, you are required to type an evaluation of what you noticed and email it to me before each session. This allows me to share with you energy readings and soul messages about the previous week, evaluate your current status and progress, as well as give guidance for the next week.
I love doing this work and have mentored people through Rays since 1988, with students who went on to meet their goals or dreams by raising their level of Being, consciousness, self-awareness and energy connections. This tool reads your level of Being and empowers you with a way to know whether you are ascending or descending, as well as receive personal soul messages that share keys of how you can get from where you are now to where you want to be.
Sessions are scheduled on the same day each week, and pricing for this staged 7-week Program is $2,500.
Please email:  support@jumpintime.org  if you have any questions or to schedule Mentoring Sessions with the Ray.
"I have found much of value in working my first Ray. What stands out most for me is knowing that working the seven-week Ray created space for spirit to move me through an issue in my life that would have taken me at least 2 to 3 years on my own to work through.
The Ray has given me a tool which I can work with to find a stance of objectivity about my life, prior to this I was lost in reactivity to life.
My spirituality has been changing/shifting in the past few years and working the Ray has helped me feel rooted and grounded and more trusting in divine energy working through sacred laws.
The Sacred Typology information has opened me to grow into who I am really meant to be and given me confidence and courage to continue this work because there is so much more of life in store for me.
The wisdom, support and counsel from Elizabeth has been invaluable to me throughout this process allowing me to move into a more loving, compassionate stance for myself so that I may be of service to myself and others. She has role modeled this throughout the Ray as a mentor.
Ultimately, working my first Ray has moved my level of being higher as the cloud over my true values and nature has dissipated. Thus, I am better able to make choices for my higher good and therefore for the higher good of others." ~Roxanne F.
---
"As with all things in this universe, the Ray came into my life at the perfect time, when I was ready to receive it. One of Elizabeth's many gifts is sharing the tool of the Ray with those who are ready to live consciously, to be aware of the perfect order of the Universe, to understand where one is on his or her journey to higher consciousness, and to stay aware and present to the action one takes in response to any given situation.
Although I have only just begun to use the Ray as a tool, in the last six weeks, I have learned more about myself and remembered many things that I was once passionate about or had a desire to pursue. By journaling daily and summarizing each week, I became more and more objectively aware of how the Ray is constantly working in my life.
Elizabeth's guidance, support and compassion, along with her objective view of the events that I had recorded in my journal and their significance, keeps me "in the moment" and aware of my process, my journey, my strengths and how to rely on and honor those strengths.
Elizabeth has been working with me via email.  At the end of each week, I email her a summary of the events and highlights that I have recorded in my journal, and she then provides feedback on how the events of that week relate to that particular note of the Ray. You do not have to be in her physical presence to receive her gifts.  She has the ability, in my case, to read my words, my summaries and show me how each Note of the Ray is unfolding, playing out – constantly supporting and giving me insights that I don't see at the moment they are happening.
The growth in consciousness that I've experienced over the last six weeks is amazing, magical, pure ecstasy. Knowing that I am on the path, the right path, using the tool of the Ray, in conjunction with meditation and journaling, keeps me excited and committed to my journey to a higher consciousness." ~Lizz E.
---
"My experience with my first seven day ray was truly amazing. I accepted the challenge to become more disciplined because I know that was truly what I needed in order to be truly happy and successful in this lifetime.
I am a wife and a mother of two kids. Growing up, my life lacked true structure and order. By following through with my first seven day ray without giving up, I was able to gain the confidence in myself that I could do anything I set out to do.
I was able to prove it to myself by cleaning our ENTIRE kitchen every day for seven days consistently. This was NOT PUNISHMENT. This was MY OPPORTUNITY TO CHANGE. To set fire to the past, learn from my mistakes, and create new patterns that would benefit not only myself, but my family. Most importantly, my kids. I did not want my kids to live their lives as I had lived mine. Often I was insecure, scared, and confused because of the lack of foundation. This resulted in a poor structure and almost no order to my life well into my teenage years. Things were extremely tough for me in high school as a result.
I used to think chores were just what you had to do but now, I enjoy doing any sort of chore around the house because it has a positive result by making everyone else happier in the home, and it gives me a sense of self-worth to be able to complete everyday tasks.
To me, the kitchen is the heart of the home. This is where I would have deep conversations with those who are closest to me. This is where we pour OUR HEARTS into the food we feed to our families to nurture them.
By making it my responsibility alone to keep the kitchen pristine every single day, I was able to gain insight and wisdom about Structure and Order.
Also, the importance of finishing what you start or doing what you said you would do. (keeping your word)
In conclusion, the ray brought Structure and Order to myself and my family by revealing what needed improvement for better success and not by showing me what I was doing wrong. I value that I was shown there is no right or wrong way just outcomes/consequences. (good or bad) Sometimes, those outcomes are truly magical. I discovered many connections with myself and my family by capturing and preserving the moments of each day during my first seven day ray. I learned that we are all connected in ways that we never expected. Everything we do affects those around us in a positive or negative way." ~Jane M.
---
"Although I was more of a bystander and an evaluator for Jane's Ray, it was amazing how much I learned. I was reminded of how much value the little things that I do matter. Details are very important. Also, not allowing my unspoken expectations to be the responsibility for others to know or uphold. This is why living in an environment that is free of judgment and having full liberty for all to share their truth is so important. We have started putting all of these things into place in our home. The positive energy and light flows much easier. The relationship between me and my daughter-in-law has grown leaps and bounds! It is amazing! Thank you for this opportunity to be a part of this process!" ~Cissy M.
---
If you have questions about the Requirements for a Private Session or need assistance deciding which kind of Private Session would best serve your needs (there are 9 different options below), please email:   support@jumpintime.org
---
Spontaneous Interpretation of Your Charts:  $125
---
Written Interpretation of Your Charts:  $175
---
 Individual Session (up to 2-hours):  $200
---
Package of 3-Individual Sessions (2-weeks apart):  $450
---
Couples Session (up to 2-hours):  $300
---
Family Session (up to 2-hours):  $400
---
Soul Session (up to 1-hour without preliminary mind/bodyworks):  $125
---
Soul Session (up to 2-hours with preliminary mind/bodyworks):  $225
---
Mentoring Sessions with the Ray (staged 7-week Program):  $2,500
---